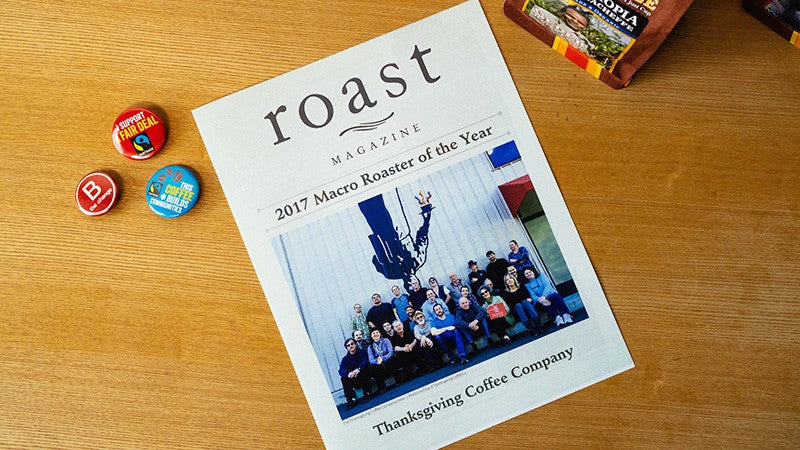 Our Blog
Unpacking Coffee Features Paul Katzeff of Thanksgiving Coffee
From the Roastery


Unpacking Coffee is a celebration of coffee through episodes that focus on individual coffee roasters and their unique stories. The show's hosts, Kandace and Ray, share a mutual love for all things coffee and created Unpacking Coffee to make the wide world of the specialty coffee industry more accessible.
In their newest episode, Kandace and Ray unpack Thanksgiving Coffee to find out what it means to be Not Just A Cup, But A Just Cup. They chat with Paul Katzeff about his political activism, and how his background in social work shaped the company that Thanksgiving would become.
"I was the first social worker to become a coffee roaster," Katzeff told K-Ray. "When you bring two ideas together for the first time — or two professions together for the first time — you're going to get an explosion of new ideas."
This episode also features Roast Magazine's founder and publisher Connie Blumhardt, who provides some detail on everything that goes into the selection of Roaster of the Year.
"I think the most interesting thing about Thanksgiving winning, to still be a contender ahead of the curve and really stretching the limits of what most roasters do, was really impressive to me that they still have this amazing culture that they've adhered to for 30 plus years."
So kick back with your favorite Just Cup, and enjoy this delightful episode all about Thanksgiving Coffee, made in some kind of Fort in Mendowhatnow California.
059 Thanksgiving Coffee from Needmore Designs on Vimeo.
Check out the Thanksgiving Coffee page, and the longer discussion with Paul Katzeff on the Unpacking Coffee website.