Our Blog
Sierra Nevada World Music Festival 2023
We Offered a Thriving Palace of Fine Coffee

Back from hiatus, the Sierra Nevada World Music Festival returned, and Thanksgiving Coffee Company was there. Inside the field that is sometimes used for high school sports, rodeo, sheepdog trials, and beer festivals, we constructed a working coffee house and served well over two thousand drinks.
Espresso, lattes, cold brew and many other delights kept the energy of the crowd right where it wanted to be. 75 lbs. of various coffees transformed an empty field into a thriving palace of fine coffee.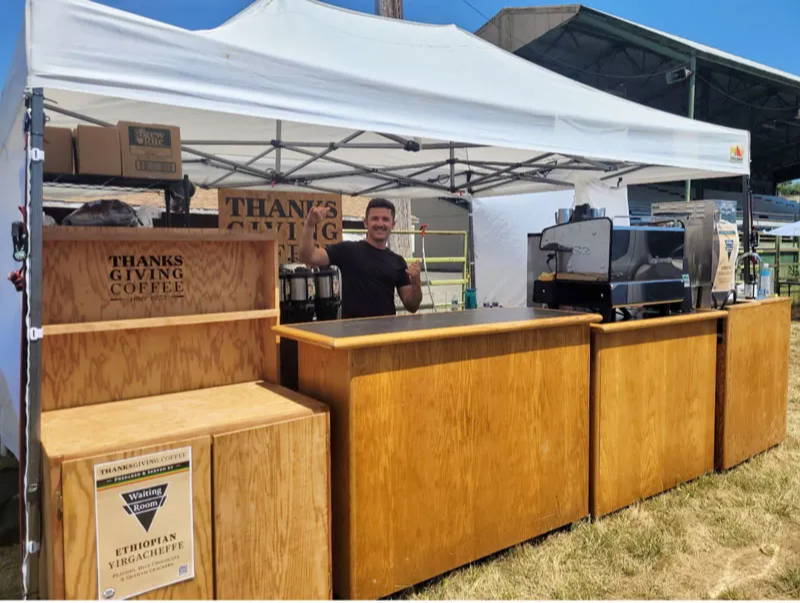 The Waiting Room/ Cafe Beaujolais's Chef Julian Lopez behind the Espresso Booth at the SNWMF
The booth came from TCC, but Chef Julian from the Waiting Room/Café Beaujolais brought his staff to operate it with great style and delicious offerings.
The weather cooperated – never too hot, or too windy - but allowed all to enjoy three days of Peace, Love and Music. Thanks to Ksenia, Shelly and the whole crew at SNWMF for making it a wonderful experience all around.
As the SNWMF social media post said… "It was Spaz-iale!"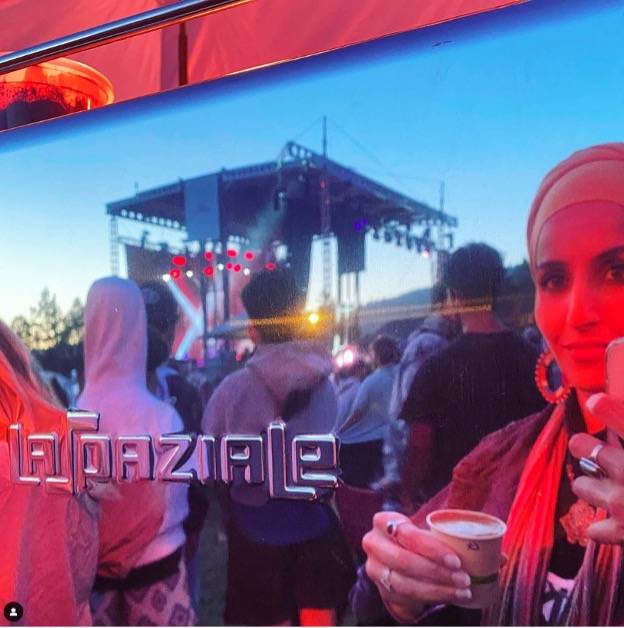 Photo by Hanane Korchi for SNWMF
July is only halfway done and yet the events are nonstop! Getting out amongst the world of coffee lovers gives us the best connection possible and exposure of our products to a wide range of audiences.

We have been doing lots and lots of non-stop local (and not-so-local) events recently, including:

Caspar-Fest

 An annual event at the Caspar Community Center that brings the community together with local vendors and music in celebration of Caspar, CA

Bubbles, facepainting, kidzone at Caspar Fest with U'ilani Wesley

The Redwood Coast Recreation Center

Here we offered our coffee to support the center in Sea Ranch, CA

"Your presence really added a nice touch and helped make it a successful event. We have gotten a LOT of positive feedback so we are hoping to repeat the event next summer!"

Beth Roland

B Local Bay Area

This event was a group mixer for B Corps in San Francisco. As a certfied B Corp we enjoy meeting and working with our local chapter to learn about the good work and practices of our colleagues.

The Chair of the Bay Area B Local Keira Murphy addresses the gathering, and a downtown view of Sales Force Tower in San Francisco

Nathan Nies at the Thanksgiving Coffee station sharing our delicious coffee and story with our fellow B Corp community.

The Mendocino Music Festival!

We have been serving coffee as a sponsor of the Music Festival since it's humble beginnings in 1986.

Festival Orchestra 1, with soloists Jessica Fellowes and Katie Kadarauch

View from the Festival Tent

Lavender Grace enjoying a cup of coffee at the Festival

Coffee brings people together. We are happy to support our community to learn and grow and celebrate one another with great coffee.

Events

July Events 2023

read more

Participants of the Salmon BBQ in the beautiful Noyo Harbor, CA

The World's Largest Salmon BBQ happened on 7/1, and again – Thanksgiving Coffee was there! This event brings together thousands of salmon lovers to raise money for salmon habitat restoration. The salmon fishery in California was closed this year – completely – in order to let the salmon population rebound, so everything that we can do to support increased spawning grounds will help the salmon, our local economy, and the entire ecosystem.

Thanksgiving Coffee Booth at the Salmon BBQ with CEO, Jonah Katzeff (on right ) out front. 

Our booth provided hot coffee (Mocha Java and Royal Decaf) and cold brew (Ethiopian Yirgacheffe Natural from the Gedeb region) in exchange for any donation to Salmon Restoration. We raised nearly $500 from donations alone. Our Office Manager, Jennifer, CEO Jonah, and co-founders Paul and Joan were on hand with Sales and Marketing Manager, Joe, to keep the coffee flowing for 8 hours.

Jennifer Brown at Thanksgiving Coffee Booth at the Salmon BBQ

All we can do to support increased spawning grounds will help the salmon,
our local economy, and the entire ecosystem.

We were not alone in this effort: fellow B Corps including North Coast Brewing Company and Harvest Market were on hand to donate, raise additional funds, and support the cause. The menu usually includes corn on the cob, but corn was in short supply this year, so Harvest Market was able to source organic new potatoes to supplant the menu.

Jennifer Bosma on right, representing both Harvest Market and Rotary

North Coast Brewing Company's CEO, Jennifer Owen, along with senior brewing staff serving a thirsty crowd at the World's Largest Salmon BBQ

Dozens of volunteers helped pull this event together and make it run smoothly including Rotary International (with participation from both Fort Bragg and Mendocino chapters), California Conservation Corp., Mendocino Sheriff's Department, Salmon Restoration Association, and the celebrity grill team including lots of local dignitaries including Fort Bragg's Mayor, several County Commissioners, local business owners, and many, many more.

Volunteers Serving up the food with smiles

"West of Nowhere" playing at the Salmon BBQ

The event had a lively festival atmosphere with great weather, great vibes and lots of live music including West of Nowhere (pictured), Steven Bates Band, the Caspar Kings, Earl Oliver, and Deep Pockets who started the day off with some very danceable grooves. One of the highlights is the annual release of the supporting shirt… this year's shirt slogan, "If you must smoke – smoke salmon."

Events

The World's Largest Salmon BBQ

read more