Lifting Up Cultural Leaders

Native Cinema is in its second season to uplift Native Cultural Leaders and bring visibility, acknowledgment, and responsibility to the Mendocino Coast. In partnership with local Northern Pomo cultural leaders, and Xa Kako Dile, Thanksgiving Coffee supports the work of our first nations leaders who share valuable wisdom for regenerative ways to shape our shared future.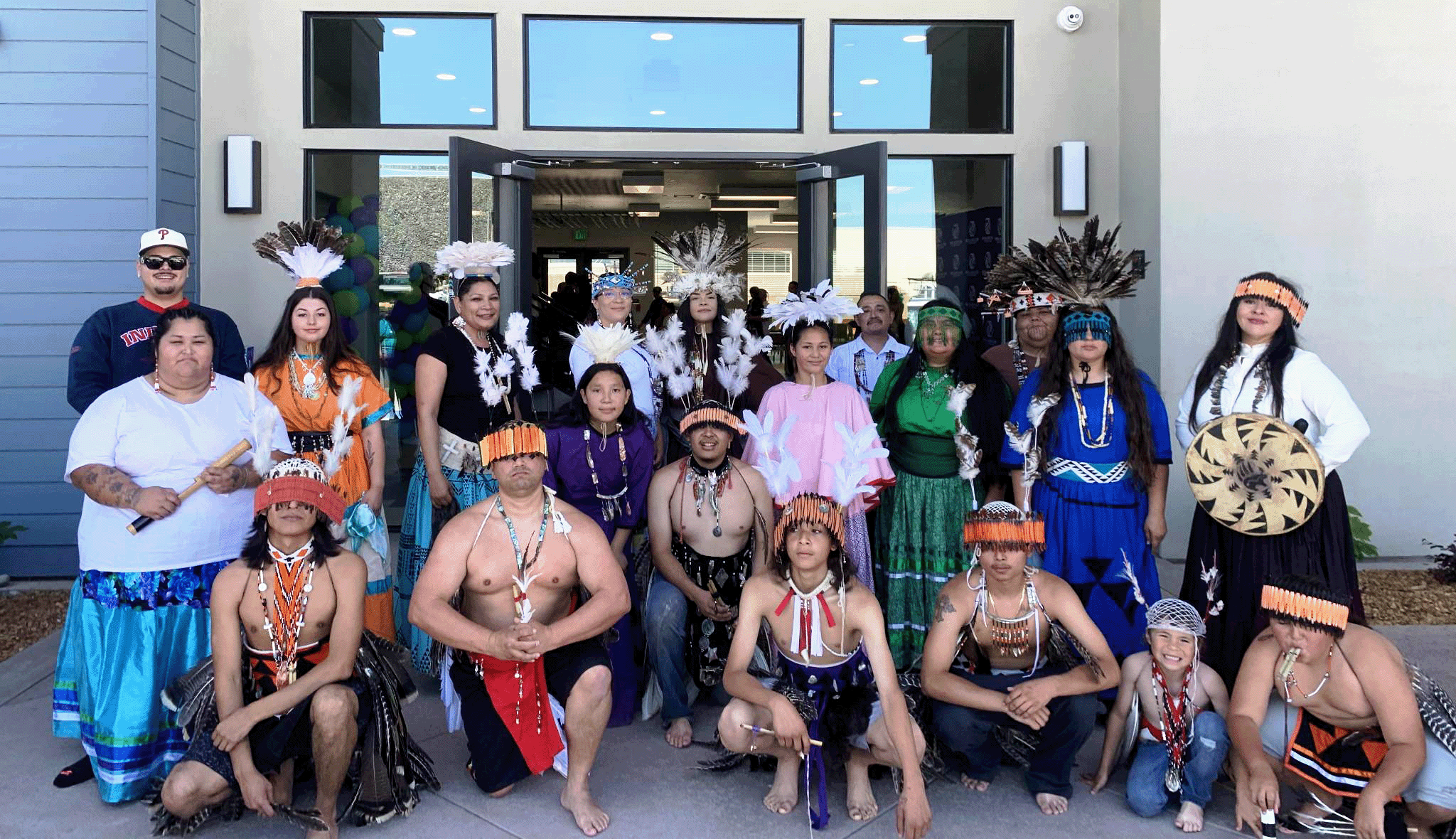 Coastal Pomo Dancers in traditional regalia.
This year's Native Cinema program opens with the Coastal Pomo Dancers who will offer place-based ancestral song and dance to honor the land. The Dancers feature: Bernadette Smith (Board Chair of Xa Kako Dile: one of the first Indigenous women-led farms on the Mendocino Coast), Clarence Carrillo, Natalie Smith, and Shayne McCloud.
"Land acknowledgments go beyond words to recognize and honor Indigenous peoples as the original land stewards. They are a crucial step in correcting historical erasure and marginalization. Rather than rushing through acknowledgment, it should be approached with intention and followed by meaningful action. Tailoring acknowledgments to specific Indigenous groups and engaging directly with them fosters accuracy and respect. Acknowledging ongoing colonization and its impact is vital for reconciliation. Land acknowledgment should be accompanied by building relationships and informed action. It can spark conversations and contribute to broader decolonization efforts. Research and genuine engagement with Indigenous communities are essential. Land acknowledgments invite us to learn, understand, and act toward reconciliation today." Kanyon Sayors-Roods
Language Vitalization in Song
This special short will play before the film feature with music composed and performed by Esme Olivia. Esme grew up in traditional Tiwa lands known as Albuquerque, NM. Hers is a weaving of lineages from Mexico, Holland, the Jewish diaspora, & the Great Mystery. She is a movement, theatre, music & teaching artist with Dancing Earth Creations & independent projects. Esme is especially keen on vocal harmonies, & how music, dance & storytelling may seed new culture & offer fresh water for the thirsty. EsmeOlivia.com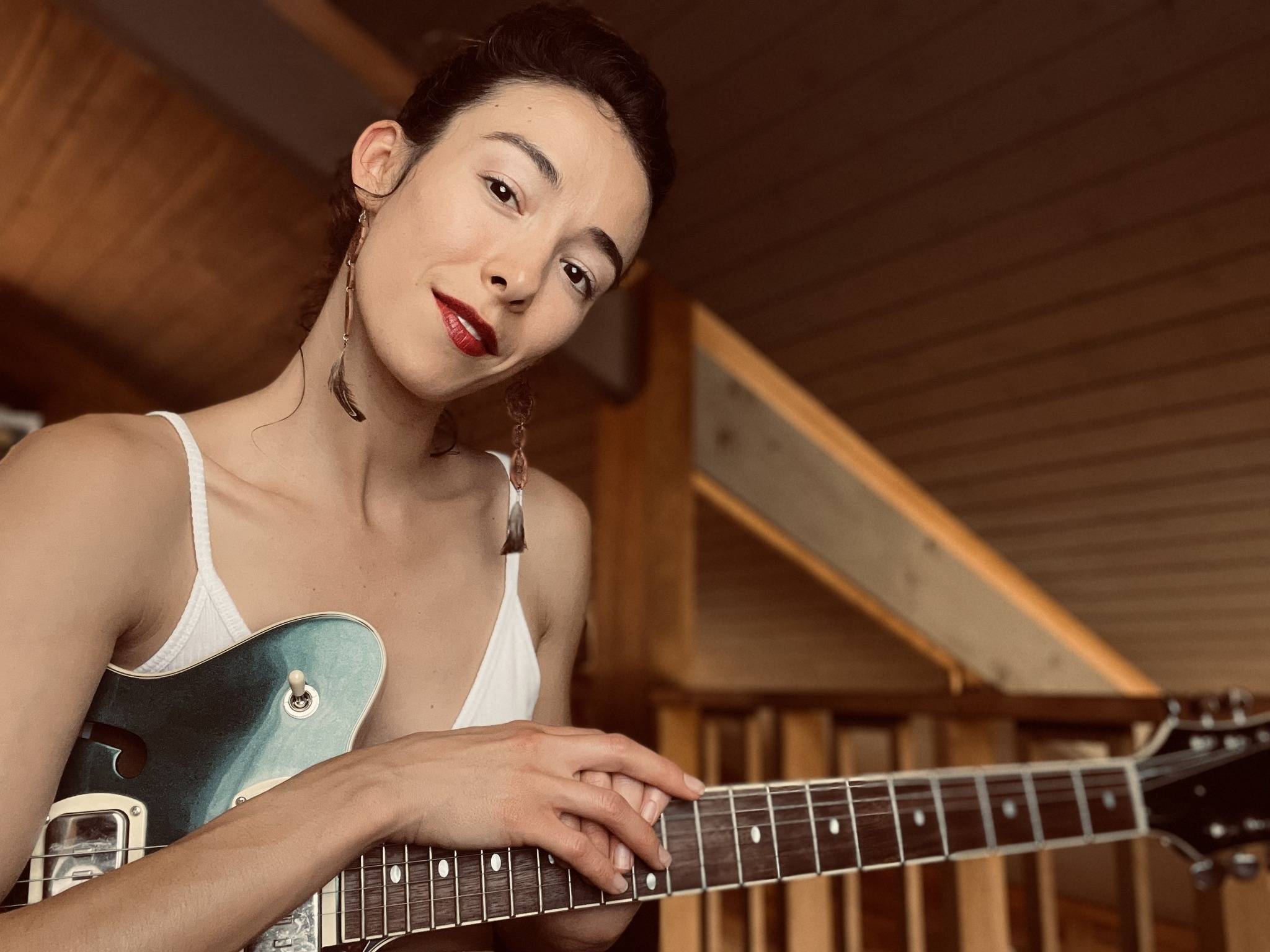 Groundworks - Feature Film
Filmmaker: Ian Garrett, Director, Producer, Writer, Camera
Groundworks is a documentary that shares stories of California Indigenous Artists. On San Francisco's first official Indigenous People's Day, a group of Native artists contributed a dance performance, Groundworks, to the annual Sunrise Ceremony on Alcatraz—nearly 50 years after the Indians of All Tribes occupied the island and brought attention to Native American rights. These artists, through their contemporary creative practices and activism, are working towards the reclamation of Native lands while restoring traditional ways of knowing and making.
A Panel Discussion with the Artist will follow the film.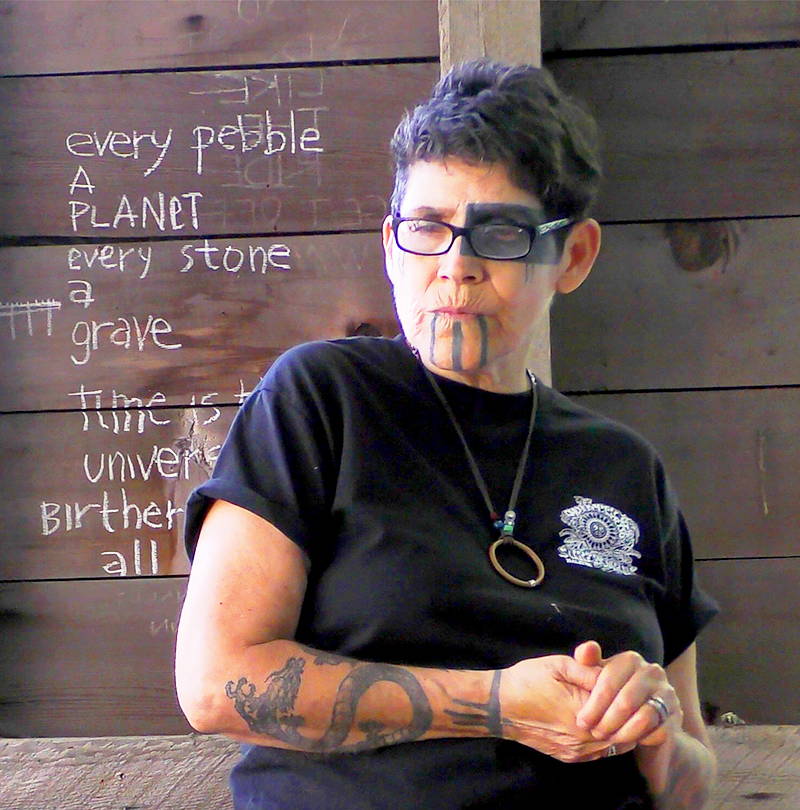 L. Frank
Tongva-Acjachemen artist, writer, tribal scholar, cartoonist, and Indigenous language activist. She is an important keeper of knowledge related to Indigenous craft, building techniques, traditional foods, agriculture, and land management. In addition to activism to reclaim language, L. Frank has led the building of Tongva canoes through traditional means.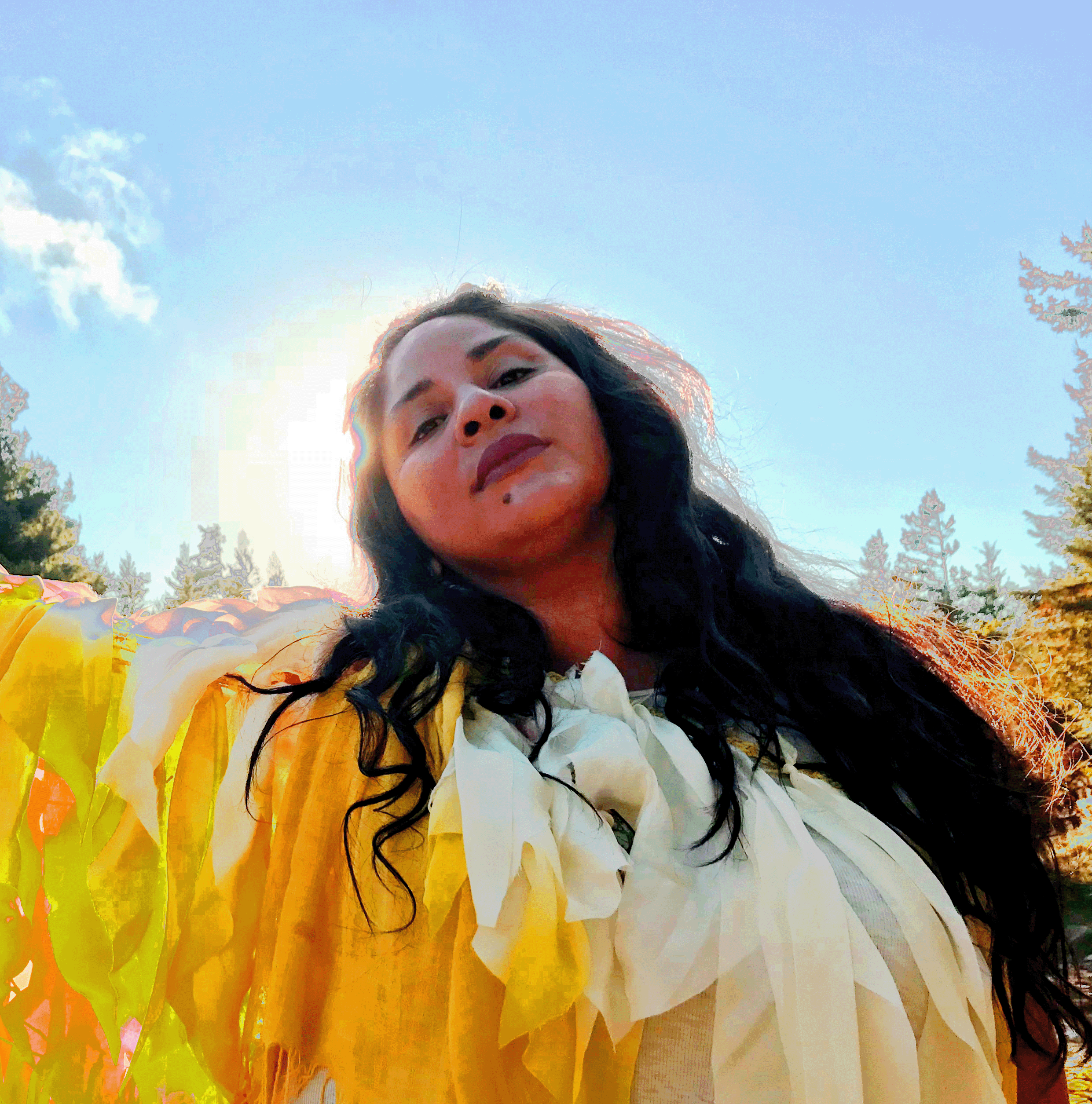 Bernadette Antoinette Smith
Bernadette Antoinette Smith
Coastal Pomo from the Manchester/Point Arena Band. She has dedicated her life to the restoration and revitalization of the Chichkale, the Kashia word for the Tan Oak. She supports youth to stay connected to the land, sacred sites and to celebrate the acorn. She uses contemporary dance and music to breathe new life into their beautiful Pomo language and tell the stories of the Acorn from the beginning to the destruction that we see today. As an environmental justice activist, she protects against the use of harmful herbicides in the forest of the beautiful Mendocino coast.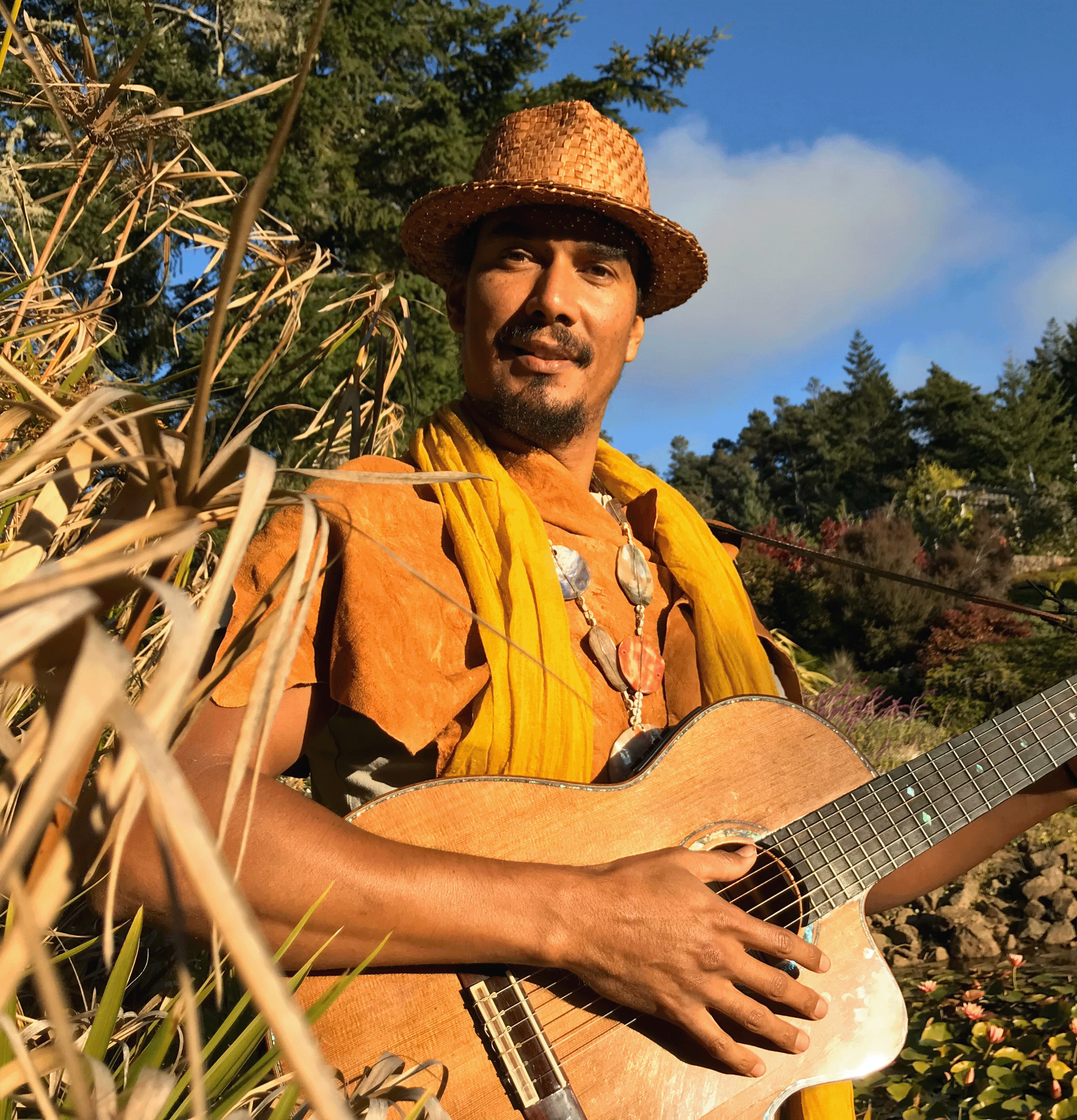 Ras K'Dee 
Pomo, with ties to multiple bands in Sonoma and Mendocino Counties. Ras is an accomplished musician and producer. He fronts Audiopharmacy, an internationally touring musical group that defies styles. He is also the editor for Snag Magazine and is building The Nest, an arts and community facility in Forestville, California which will be dedicated to having half of all collaborators be Indigenous. Audiopharmacy.com
Kanyon Sayers-Roods 
Ohlone Mutsun and Chumash Native American Kanyon Coyote Woman Sayers-Roods art is a sincere expression of her Native heritage. Kanyon's visual descriptions are always based on nature and the natural world. Dedicated and active in the Native Community, Kanyon provides leadership, serving as an artist, poet, activist, student and teacher for up and coming scholars ready to challenge their creative paths and remind people what it means to decolonized. Kanyon's lifelong artistic vision is to convey principal ideas of Native culture through visual means. Offering her voice and her art to remind our community that Indigenous perspectives and cultural continuity is ever present and prevalent. CEO of Kanyon Konsulting and caretaker of Indian Canyon "Federally recognized Indian Country" in the south Bay between San Francisco and Monterey. Kanyon Konsulting Is dedicated to preaching the gap between indigenous and contemporary value systems.  Kanyonkonsulting.com
Panel Facilitators and Co-Producers:
U'ilani Wesley is a Kanaka Oiwi (Native Hawaiian) originally from Honolulu, Hawaii. She is the Executive Director and co-founder of Xa Kako Dile: one of the first Indigenous and woman-led non-profits here in Northern California. She is an educator, activist, singer, speaker, mentor, and proud Mama. Positive change starts with ourselves, Imua Kakou (moving forward together).
U'ilani is honored to be a part of the fabric of Turtle Island to promote healing, awareness and share Aloha!  XaKakoDile.com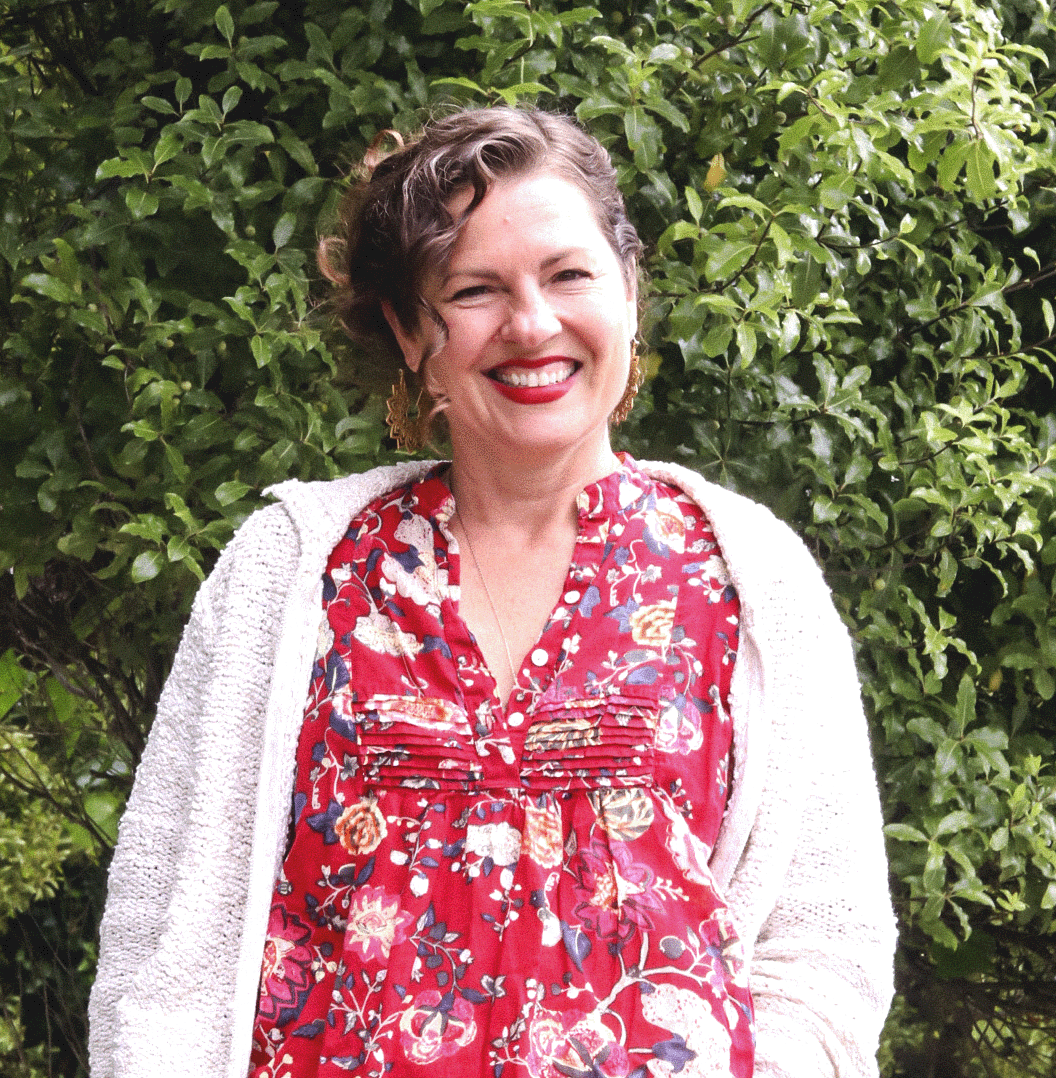 Lavender Grace - is of Celtic and Nordic descent raised on the California Coast and works with Thanksgiving Coffee Company as a consultant. She is the co-creator of the Bee Bold Alliance, a world renewal project to restore biodiversity and support local food systems. In partnership with cultural community leaders she is creating contemporary indigenous storytelling programs for multicultural and multi-generational mentor-ship and sound health.
May our Legacy Live on in our Flowers and our Songs.
Bee Bold Coffee Supports Our Pollinators for Generations to Come
Learn More about our Work and our Journey in the World of Coffee