Reflections of Mendocino Film Festival 2022

The Mendocino Film Festival (MFF) began in 2006, and Thanksgiving Coffee Company has been a steady supporter since the beginning. This 2022 season an innovative program called "Native Cinema: Vision the Future" was lanched. This was created and produced by the Bee Bold Alliance (a project from Thanksgiving Coffee) to help tell the story of Mendocino's regenerative renaissance.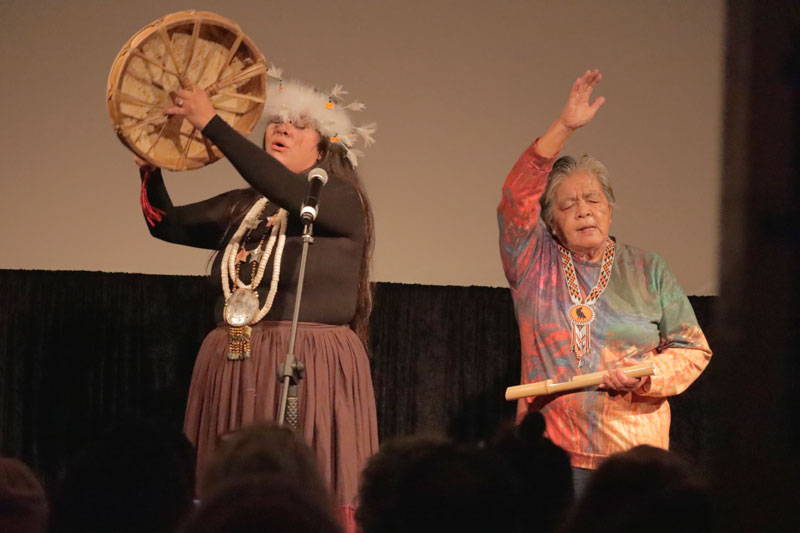 The overwhelming positive response of the Native Cinema program demonstrated an earnest interest in the Native experience. It was screened to a sold out audience at Crown Hall in Mendocino, CA. and featured many wonderful Native Filmmakers and several remarkable local Native Leaders.
The tone of the evening was set by local coastal Pomo activist and cultural revitalizer Bernadette Smith. With her moving ancestral songs for the land, Smith gave respect and honor to her heritage and for those in the audience, the cultural experince of the original peoples of Mendocino, CA. Priscilla Hunter from the Coyote Valley Band of Pomo joined Smith in this acknowledgment with her prayers and helped amplify the intention for the evening of Native Films to come. (image: Bernadette Smith on left, Priscilla Hunter on right)
Strengthen our connection through Indigenous Storytelling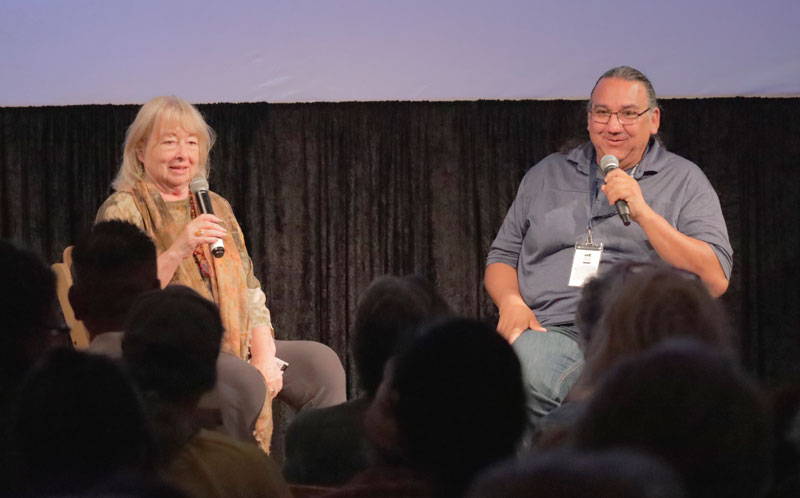 The Cinema portion began with the film Chasing Voices (a "Pat's Pick") documentary about Ethnographer John Peabody Harrington who spent 50 years recording and documenting over 150 different, dying Native American languages. This film has been included in Rhode Island International FF, Montana Int FF, Mother Tongues FF, and the Smithsonian Institution in Feb 2022.   (image: Pat Ferrero left, Daniel Golding right)           
Director/Producer Daniel Golding is an award-winning Native filmmaker with a degree in Cinema and American Indian Studies from SF State University. He has been making award-winning documentaries for the past twenty years and teaches digital filmmaking workshops to at-risk tribal youth through his Hokan Media Digital Filmmaking Academy.  
After viewing this unique and intriguing film, the audience engaged in a Q&A led by Pat Ferrero with director Daniel Golding. Listen to more behind the making of Chasing Voices at Forthright Radio here.
Nathaniel Golding hopes audiences will take away how a positive outlet will lead to positive things.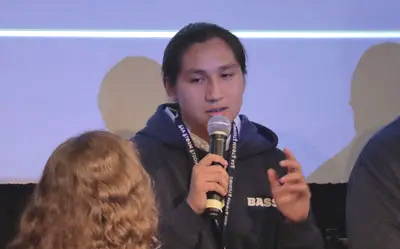 Part II of the Native Cinema program featured AWAKEN, a short film about the issues young people face on the Fort Yuma Reservation in Southern California. The first-time filmmaker Nathaniel Golding (an enrolled member of the Quechan tribe) tells the story of cousins Orlando and Kieran whose love for metal music has not deterred them from learning their traditional songs and dances. Nathaniel was the youngest film crew member. He is learning the Quechan language and songs and was inspired to make this film by his father, producer Daniel Golding.
(Image: Awaken filmmaker Nathaniel Golding)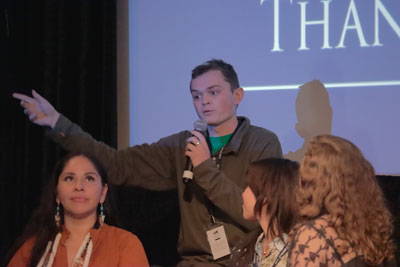 The second film Forest Grandmothers explores the activism of Priscilla Hunter (Coyote Valley Band of Pomo Indians) and Polly Girvin (Indigenous Rights Lawyer). For the past 40 years, they have tirelessly worked to preserve the forests and educate others about the cultural significance of biodiversity for Native People and the wellbeing of the planet.
(Image: Forest Grandmothers filmmaker Henry Thomas, center)
This unique film project was directed by first-time filmmaker Henry Thomas who led the Bee RYL Production Crew, a multicultural and multi-generational mentorship for youth to sustain local art and culture through film. Henry Thomas is a young aspiring filmmaker combining digital video with analog photography.
The Bee RYL Crew for 2021-22: Ronan Williams, Keiran Miller, Kyla Marchello, Josephine Steinbeck, and camera support from Amy Heckeroth.
*Bee RYL Productions is a pilot project of the Bee Bold Alliance led by Lavender Grace Cinnamon and sponsored by Thanksgiving Coffee Company in partnership with Hope4Natives, Mendocino Film Festival, and MHS Media Lab.
Bernadette Smith opened the third film Chishkale: Blessing of the Acorn, with a beautiful spoken word in her native Kashia language in honor of the Acorn. This dance film with Bernadette was created to honor Tan Oak conservation efforts and the sacred, traditional food of California Natives. Bernadette dedicates her life to the restoration and revitalization of the Chichkale, (the Kashia word for the Tan Oak) with the use of contemporary dance and music she breathes new life into her beautiful Pomo language and culture. (Image:Bernadette Smith, Coastal Pomo)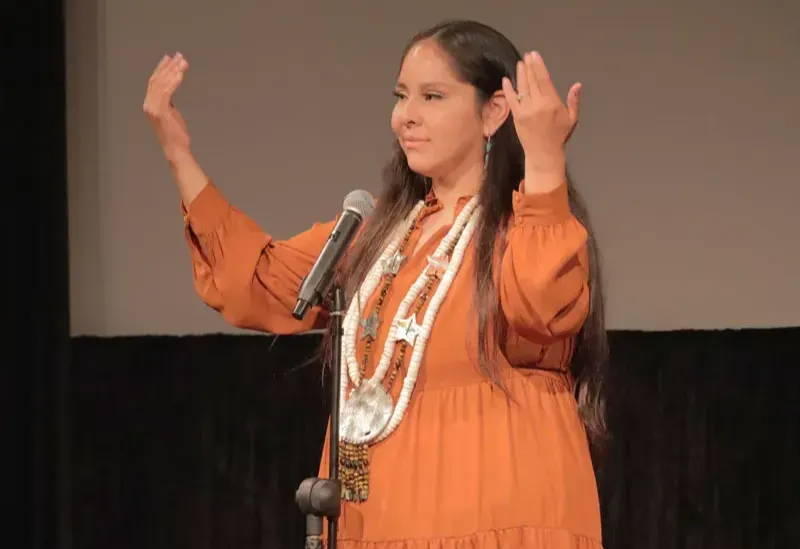 Chishkale filmmaker Linda Mai Green likes to tell stories of previously overlooked people. Green's films are for audiences who, like her, hunger to see an inclusive, multicultural world where they are reflected in all their complexity and nuance. Drawing on her biracial Vietnamese identity and her background in art history and literature, she is currently developing films that focus on the immigrant cultures and turbulent history of her home state of California.
(Image:Chishkale filmmaker Linda Mai Green)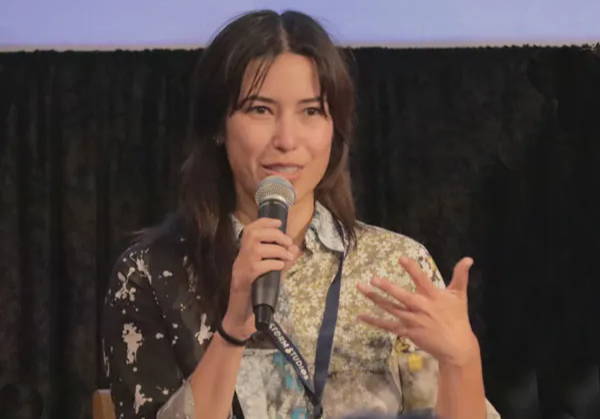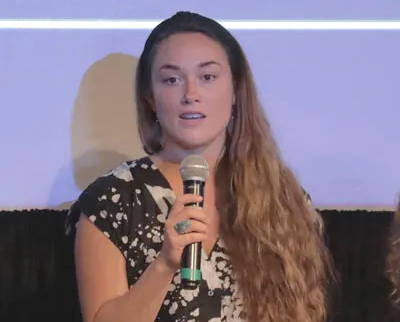 The fourth and final film of the evening was Pomo Land Back: A Prayer from the Forest by filmmakers Evan-Marie Petit & Louis Fox. Hailing from the red earth of her ancestors, visual storyteller Petite is from the Eastern Cherokee.
This film aims to honor the vital movement towards indigenous-led stewardship and rematriation of California forest lands. Created in collaboration with the Coyote Valley Band of Pomo Indians, Pomo Land Back is a visceral poetic document of an alliance-building, inter-tribal gathering that took place in February 2022. The Coyote Valley Band of Pomo Indians calls for protection and co-management of the 48,652-acre Jackson Demonstration State Forest.
(Image:Pomo Land Back filmmaker Evan-Marie Petite)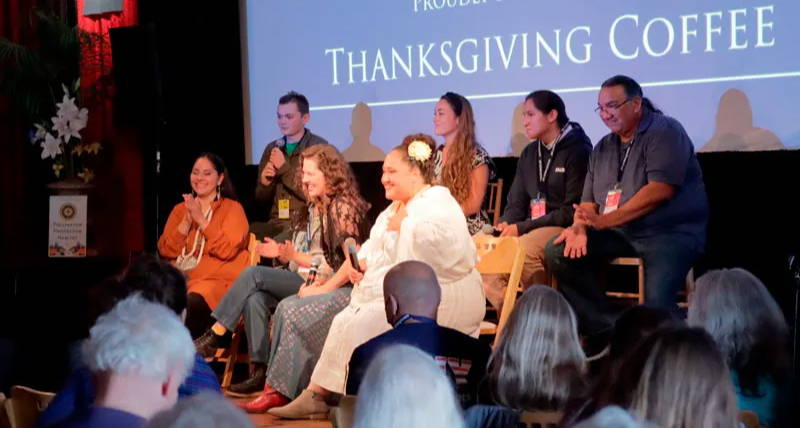 A Q&A panel comprised of all the Filmmakers was hosted by Hawaiian Kanaka U'ilani Wesley along with local artist and Sustainable Ecology Advocate, Lavender Grace Cinnamon.  
(Image: Lower level left to right Bernadette Smith, Linda Mai Green, Lavender Grace Cinnamon, U'ilani Wesley. Top left to right Henry Thomas, Evan-Marie Petite, Nathaniel Golding, Daniel Golding)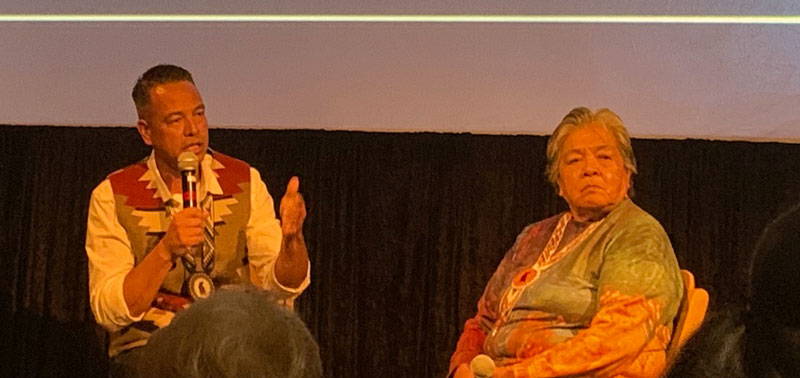 The evening closed with two honored local Tribal Leaders Chairmen Michael Hunter and Tribal Chairwoman Priscilla Hunter. Together they addressed the audience with a unique depth and humor all their own. They shared their vision to preserve the local forests and create a clean safe environment for future generations to come. Dynamic in vision and in action, the inspiring Chairman and Chairwoman Hunter actively work for the well-being of the planet and fortunate Mendocino is their home.
Thanksgiving Coffee Company is a proud sponsor of the Native Cinema event. It felt like a step in the right direction to strengthen our communities resilience. The evening created an opportunity to learn and gather some tools to use during these turbulent times. With positive outlets, we can be community-minded and learn how to grow through our shared experiences. Ultimately we are all in this together, let's tell a good story.
(Image: Tribal Chairman Michael Hunter left, Tribal Chairwoman Priscilla Hunter right)
Get Involved
If you are interested in learning how to get involved, please reach out. We are most resilient when we honor our diversity and create creative solutions together.
Our Bee Bold Coffee supports biodiversity and Earth renewal with your daily cup of coffee. The Bee Bold Campaign offers a steady funding source for Conservation Works, training youth to support native bees and pollinators with the restoration and preservation of habitats to sustain a resilient ecosystem.
Follow Thanksgiving Coffee Companies Growing Stories.
We use coffee as our medium to do good in the world.