Roastmaster's Select Club: Coffee for Peace

Once a month, members of the Roastmaster's Select Coffee Club have the opportunity to sample unique micro-lot coffees from around the world. "What is a micro lot," you ask? Read up on how we source the beans and what happens when they reach our roastery.
Following the harvest cycle, Roastmaster's Club Members have exclusive access to these one-of-a-kind coffees at their peak freshness, and now it's your turn!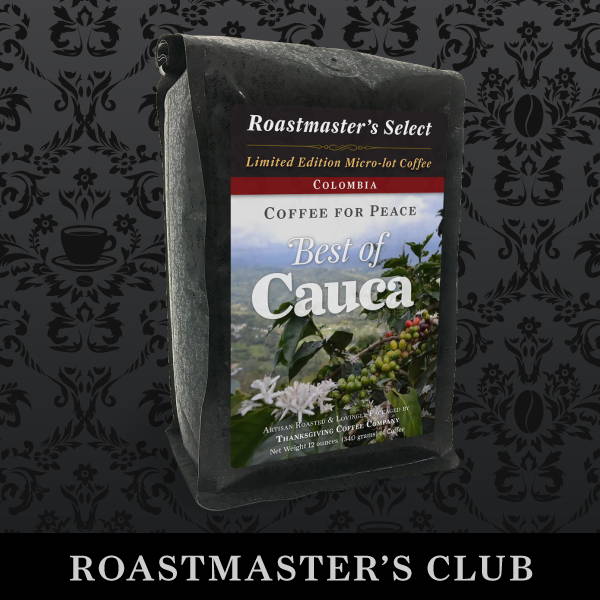 ---
Coffee for Peace from Colombia

From the Coffee for Peace website:
"Colombia is in the middle of a historic peace process, after fifty plus years of violence. The success of this monumental task rests not only on the political will of the government of Colombia and former rebels, but also on the willingness of the international community to support Colombia economically during this transition. For the thousands of farmers who live in post-violent regions of Colombia, this is an opportunity to leave behind the violence of the past, where production of illicit crops was the norm, and embrace a peaceful future through the production of specialty coffee."
In the regions of Antioquia, Bolivar, Caqueta, Cauca, Meta and Valle del Cauca, Coffee for Peace in Colombia, the initiative is to make specialty coffee a key component in the transition to peace. Through targeted technical training to improve coffee quality, as well as market linkages, thousands of coffee farmers are tapping into specialty markets, thereby increasing their incomes and helping to sustain the fragile peace process.
Coffee has been a faithful companion of Colombia for more than 350 years. Today it continues to support the construction of a new future for the coffee farmers.
Altitude: 1,500 meters
Processing: Fully washed
Region: Cauca
Varietal: Castillo