Roastmaster's Select Club: Pichincha Imbabura Chirimoya from Ecuador

Once a month, members of the Roastmaster's Select Coffee Club have the opportunity to sample unique micro-lot coffees from around the world. "What is a micro lot," you ask? Read up on how we source the beans and what happens when they reach our roastery.
Following the harvest cycle, Roastmaster's Club Members have exclusive access to these one-of-a-kind coffees at their peak freshness, and now it's your turn!
This month we're sharing coffee grown in Ecuador by Farm Crus Loma de Galo Morales and roasted here at Thanksgiving Coffee in Fort Bragg, CA.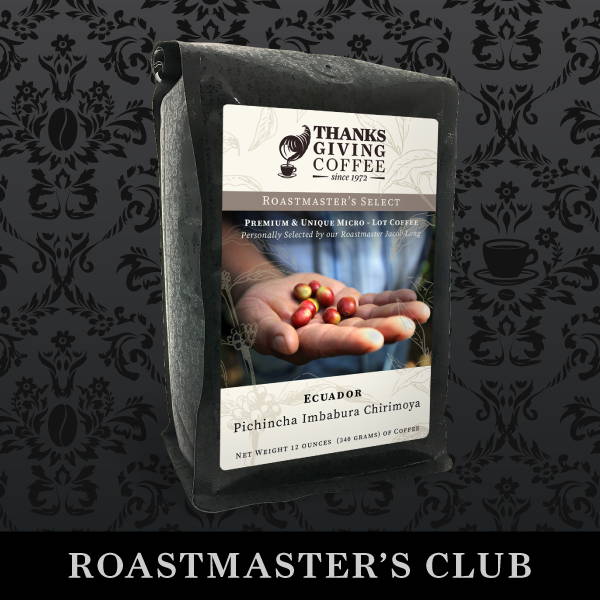 The Story Behind the Coffee Bag

Introducing this month's Roastmaster's Select coffee, picked by Roastmaster, Jacob Long, Pichincha Imbabura Chirimoya. The Cruz Loma Farm is sheltered by the subtropical climate of San José de Minas to the northwest of the province of Pichincha at a height of 1,450 meters above sea level. These conditions make it possible to obtain a variety of quality products from its land, such as soursop, corn, beans, naranjilla, orange, tangerine, and, of course, the best coffee. One of the most important motivations of coffee farmers, Galo Morales, is to positively collaborate with the community's economic development, through implementing productive practices that benefit the local population around the farm. In addition, this activity allows him to connect with his family since his wife and daughters actively collaborate in its production and marketing. Being involved in the world of coffee has allowed him to value the effort, love, and passion that a producer must dedicate to his activity in order to achieve the highest quality; also, it has allowed him to improve his relationships with people by sharing the knowledge and experience that you have acquired over the years.
Altitude: 1,500-1,800 meters
Processing: Fully washed and dried in the sun on raised beds
Farmer: Finca Cruz Loma
Varietal: Caturra, Typica