Roastmaster's Select Club: Coffee from Kenya

Once a month, members of the Roastmaster's Select Coffee Club have the opportunity to sample unique micro-lot coffees from around the world. "What is a micro lot," you ask? Read up on how we source the beans and what happens when they reach our roastery.
Following the harvest cycle, Roastmaster's Club Members have exclusive access to these one-of-a-kind coffees at their peak freshness, and now it's your turn!
This month we're sharing coffee grown in Kenya by the Ichamama Factory and light- roasted here at Thanksgiving Coffee in Fort Bragg, CA.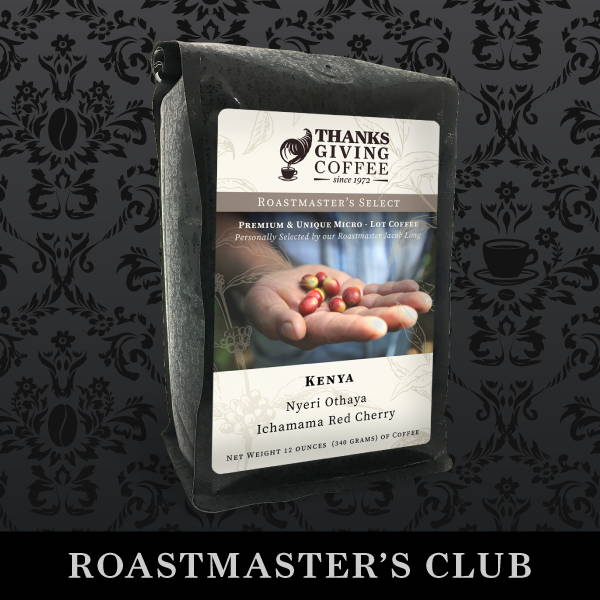 Ichimama Red Cherry Coffee from Kenya

Our January Roastmaster's Select is grown in one of the most renowned coffee-growing countries in the world, Kenya, and in particular, one of the most well-known regions, Nyeri County. The soil is rich in volcanic minerals setting it apart from other coffee origins and giving the coffee its unique flavor profile.
The Ichamama Factory is under the umbrella of Othaya Farmers Cooperative Society, where we order our Kenya Nyeri Peaberry, one of the 2017 Roaster of the Year award winners! Othaya is fully farmer-owned made up of over 11,000 small-scale farmers, including the Ichamama Factory, made up of about 824 farmers. When you receive this fair-trade coffee in your Roastmaster's Select Club subscription this month, you'll feel confident knowing you're supporting thousands of hard-working families in the Nyeri region of Kenya. Thank you for your support!
Altitude: 1,740 meters
Processing: Fully washed and dried on raised beds
Farmer: 824 farmers around the Ichamama Factory
Varietal: SL28 & SL34, Ruiru 11