Our Blog
Roastmaster's Select Club: Finca de Alexa
Roastmaster's Select Club: Finca de Alexa

Once a month, members of the Roastmaster's Select Coffee Club have the opportunity to sample unique micro-lot coffees from around the world. "What is a micro lot," you ask? Read up on how we source the beans and what happens when they reach our roastery.
Following the harvest cycle, Roastmaster's Club Members have exclusive access to these one-of-a-kind coffees at their peak freshness, and now it's your turn!
This month we're sharing our Finca de Alexa coffee grown in Nicaragua by Alexa Marin of PRODECOOP and roasted here at Thanksgiving Coffee in Fort Bragg, CA.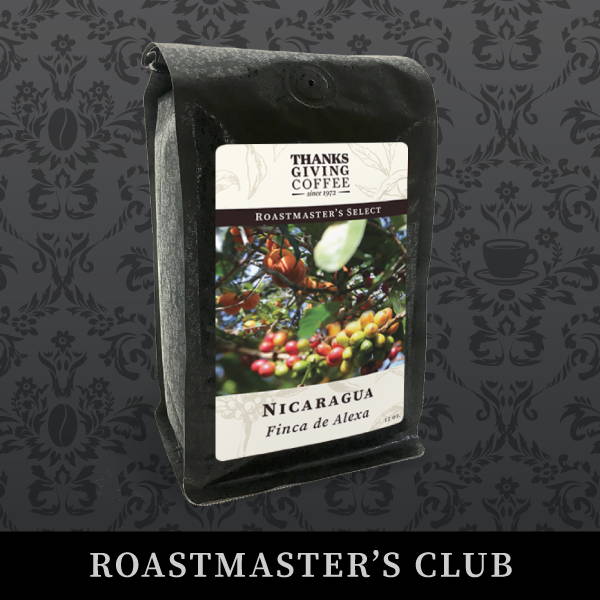 Finca de Alexa Coffee from Nicaragua
Alexa Marin lives with her two sons in the mountains of Northern Nicaragua, near the border of Honduras, where they focus on growing the best coffee possible. She has been a coffee farmer for many years and has worked with the cooperative PRODECOOOP since 1992, currently serving as their gender equality coordinator.
During a visit to Nicaragua in 2013, I had the opportunity to tour Alexa's farm. Above her coffee plants was an over-story of native trees and scattered here and there were decomposing into the soil which made me wonder what affect this could have on the flavor of the coffee cherries.
Later that day, I traveled to the PRODECOOP tasting room to do a blind tasting of coffees from 17 different farms. One coffee really jumped out as overtly sweet and citric. Guess what? It happened to be from Alexa's farm!
-Jacob Long, Thanksgiving Coffee Roastmaster
Altitude: 1,500-1,700 Meters
Processing: Wet/Washed
Farmer: Finca de Alexa
Region: Nueva Segovia, Nicaragua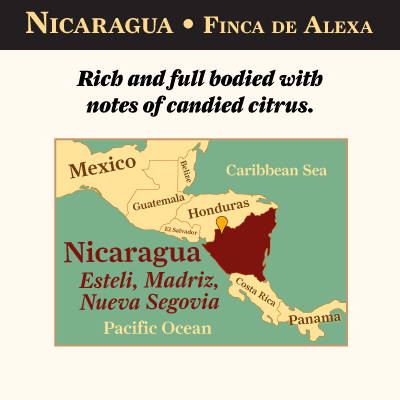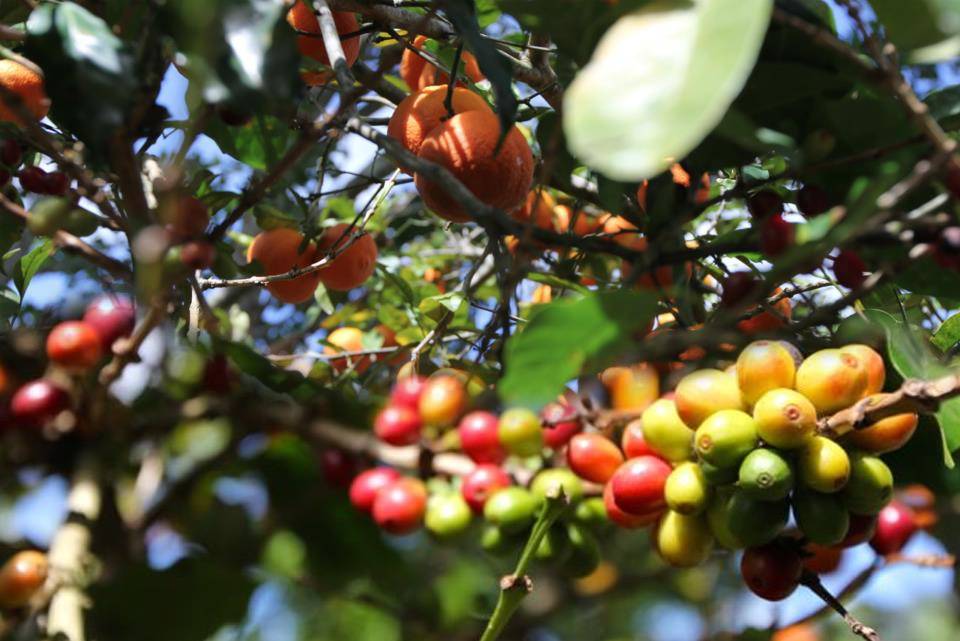 Single Origin Club: Coffee from Peru

What is a Single Origin coffee? Simply put, these coffees are defined by the place they come from.

Single Origin coffees are from a specific farm or group of farms that make up small cooperatives. You'll find that most of our Single Origin coffees are light roasted.

This month we're sharing our Miel de Cajamarca coffee grown in Peru by CENFROCAFE and light-roasted here at Thanksgiving Coffee in Fort Bragg, CA.

Miel de Cajamarca Coffee from Peru


The province of Cajamarca has long been the backbone of Peru's economy due to its vast mineral wealth. Unfortunately, these days, modern mining techniques despoil the earth and surrounding rivers and forests. The cultivation of high quality organic coffee has become the key to Cajamarca's economic and environmental sustainability, and the farmers of CENFROCAFE are leaders in this effort.

The members of CENFROCAFE carefully pick ripe cherries, depulp, ferment, wash and dry their coffee on their small farms ranging in size from one to three acres. The result is a finely crafted coffee with hints of honey, papaya, and milk chocolate complimented by a soft citric acidity.

Altitude: 1,700 – 2,000 meters

Processing: Wet / Washed

Cooperative: CENFROCAFE

Varietal: Caturra, Typica, Yellow Catui

Not ready to join the Single Origin Club? Make a one-time purchase of our Miel de Cajamarca Light Roast coffee.

From the Roastery

December Single Origin Club: Miel de Cajamarca

read more

Single Origin Club: Coffee from Sumatra

What is a Single Origin coffee? Simply put, these coffees are defined by the place they come from.

Single Origin coffees are from a specific farm or group of farms that make up small cooperatives. You'll find that most of our Single Origin coffees are light roasted.

This month we're sharing our Sumatran coffee grown in Indonesia by the Garmindo Cooperative and medium-roasted here at Thanksgiving Coffee in Fort Bragg, CA.

Organic Coffee from Sumatra


Our Sumatran coffee was grown by members of the Garmindo Co-op, formerly known as ASKOGO. This cooperative currently has 760 members, growing Fairtrade and Organic coffee in the Aceh Tengah and Bener Meriah regencies of Sumatra which are renowned for producing excellent coffee. The small farms are tucked into the dense tropical forests of the Northern Gayo Mountains, from 1000 to 1500 meters above sea level.

The Garmindo Cooperative offers regular training activities to each of the farmers in their co-op, in order to improve the quality of their coffees, learn new harvest techniques, and implement more beneficial farming practices. This group was founded in 2008, and has continually improved their coffee in the subsequent years. We have been purchasing coffee from Garmindo Cooperative since 2015.

Altitude: 1,000-1,500 meters

Processing: Wet Hulled

Farmer: Garmindo Cooperative

Varietal: Catimor

Not ready to join the Single Origin Club? Make a one-time purchase of our Organic Sumatra Medium Roast coffee.

From the Roastery

November Single Origin Coffee Club: Organic Sumatra

read more