Roastmaster's Select Club: COCASAM Coffee from Honduras

Once a month, members of the Roastmaster's Select Coffee Club have the opportunity to sample unique micro-lot coffees from around the world. "What is a micro lot," you ask? Read up on how we source the beans and what happens when they reach our roastery.
Following the harvest cycle, Roastmaster's Club Members have exclusive access to these one-of-a-kind coffees at their peak freshness, and now it's your turn!
This month we're sharing coffee grown in Honduras by COCASAM Cooperative and roasted here at Thanksgiving Coffee in Fort Bragg, CA.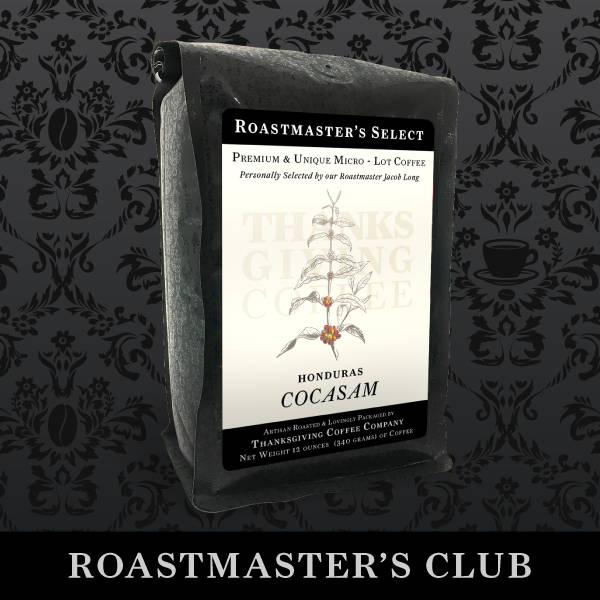 COCASAM: Coffee from Honduras

Founded in 1988, COCASAM Cooperative resides on Botija ridge, a mountainous area in the Municipality of San Marcos de Colón. This cooperative produces excellent coffee with quality over quantity in mind. In fact, they have a small section of farm land within a sacred pine forest and are not capable of expanding due to its protection as a reserve. This leads them to focus on the quality of the coffee and to improve their technique rather than producing more each year.
With the importance of preserving the planet in mind, COCASAM relies on traditional methods of production that were first introduced in the coffee world in the early 1800s - and, ALL of the coffee is shade-grown and sun-dried. Not only that, but when you receive this coffee, you'll feel accomplished in knowing that you're helping to provide comfortable living conditions for each farmer in this cooperative and their families for generations to come.
Altitude: 1,200-1,600 meters
Processing: Wet/Washed
Farmer: COCASAM Co-op
Varietal: Caturra, Pacamara, Bourbon