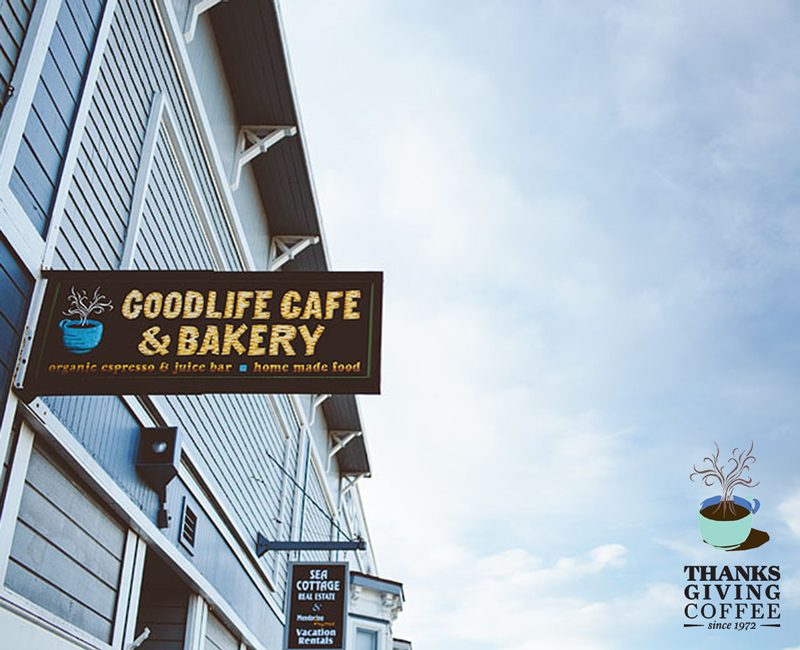 Our Blog
Goodlife Cafe's New Coffee Bags
Thanksgiving Coffee Staff
Goodlife Cafe's New Coffee Bags


10483 Lansing Street in Mendocino has been serving Thanksgiving Coffee a long time, through the different phases of ownership and names that have cycled through. As a matter of fact, Thanksgiving Coffee once operated a coffee shop and bakery in that very location. These days, you'll find the Goodlife Cafe & Bakery there–a cafe that is consistently #1 on Tripadvisor's restaurants of Mendocino.
This cafe is an excellent place to eat… but it's even better when you order a coffee drink. Every Goodlife barista has been personally trained by Thanksgiving Coffee's Roastmaster, Jacob Long – and you can taste the difference, whether it's a shot of espresso or a vanilla latte.
Goodlife Cafe's New 12oz Bags
Recently, Goodlife Cafe and Bakery made the switch to carrying their own personalized coffee bags, with beans roasted by Thanksgiving Coffee Company. These new bags, featuring the Goodlife mug logo, are available for purchase smack-dab in the middle of the cafe, and they look spectacular.
Pick up a bag of Goodlife's House Blend, and be sure to tell Goodlife thanks for serving locally roasted Thanksgiving Coffee.
Visit the Goodlife Cafe in Mendocino
Goodlife Cafe & Bakery
10483 Lansing Street
Mendocino, CA 95460
Phone: (707) 937-0836
goodlifecafemendo.com