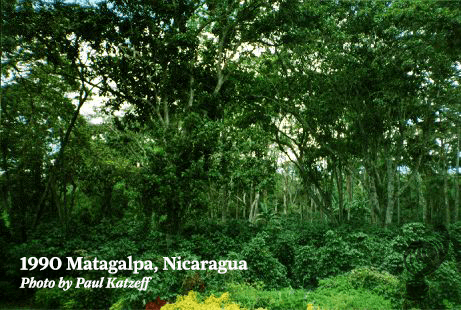 Our Blog
This is Shade-Grown Coffee
Shade Coffee looks like this: grown under the canopy of indigenous trees. The white barked taller trees are commonly known in Central America as "Inga". They are great for coffee because they not only provide shade for the trees but also habitat for biodiversity and leaf litter for soil nutrients. Leaves decaying on the forest floor is natural fertilizer. An additional benefit comes from the tree being "leguminous", meaning its roots deliver nitrogen to the soil, further reducing the need for oil based fertilizers.
This environment is perfect for the cultivation of organic coffee. This site is located in Northern Nicaragua and is typical of the Mesoamerican Rainforest that stretches from Panama thru Costa Rica, Nicaragua, Honduras, all the way up to the Yucatan Peninsula. These forests are the home of Black Panthers and the National bird of Guatemala, the famous Quetzal. The trees are full of birds and Howler Monkeys and hundreds of species of orchards. At the higher elevations, coffee trees reflect the quality of this forest in the flavor of their fruit, and finally, in your cup.
When you taste coffee from regions like this, you are experiencing a message from the forest spirits. The expression, "There is magic in this package, only you can let it out" is derived from a walk through this place that I took with my good friend Byron Coralles long ago.