The best coffee is grown the traditional way— slowly, under a canopy of shade from taller native hardwood trees. Shade-grown coffees are carefully tended, harvested, and processed by people who know and love coffee, and who depend on it for their livelihoods.
Traditional shade-grown coffee really is a win for everyone: amazing coffee flavors, a fair wage for the coffee farmers' hard work, and a lush natural habitat for migratory birds. So much good comes from a just cup of coffee.
The History of Shade Grown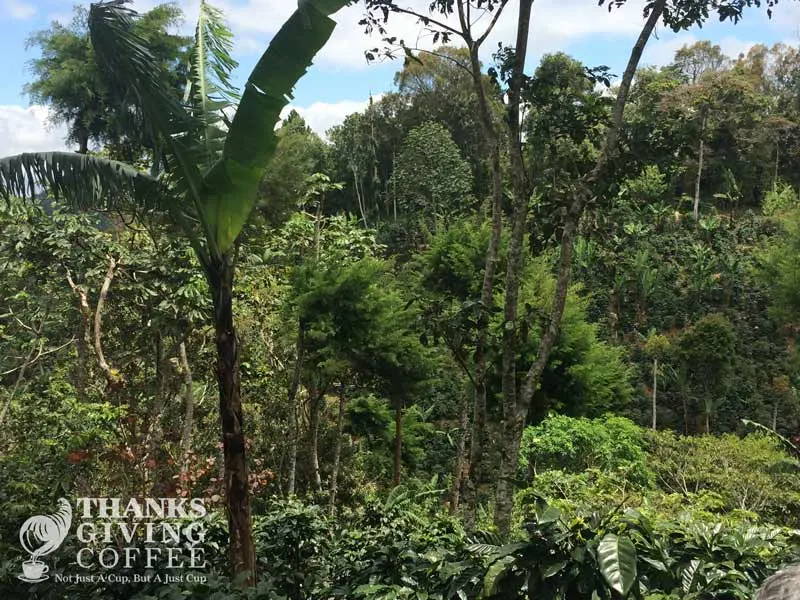 By 1996, the United States forests had run out of hardwoods such as oak, ash, maple, cherry, and all the wild fruit and nut trees. These are important woods used in furniture making, home building, veneers for plywood, doors, window frames and a host of other minor but important uses.
The timber industry needed another source of hardwood, so they targeted the temperate rainforests where coffee was grown. The coffee tree is a shade loving plant that withers in the sun and needs shade to be a healthy producer of the coffee fruit. Mahogany and a dozen other hardwood varieties were there for the loggers if only they could convince coffee farmers to cut down their trees.
The destruction of these native hardwood forests is a long story of deception. Governments, in collaboration with multinational corporations, set out to convince farmers to grow their coffee in the sun, claiming that yields would increase and incomes would rise.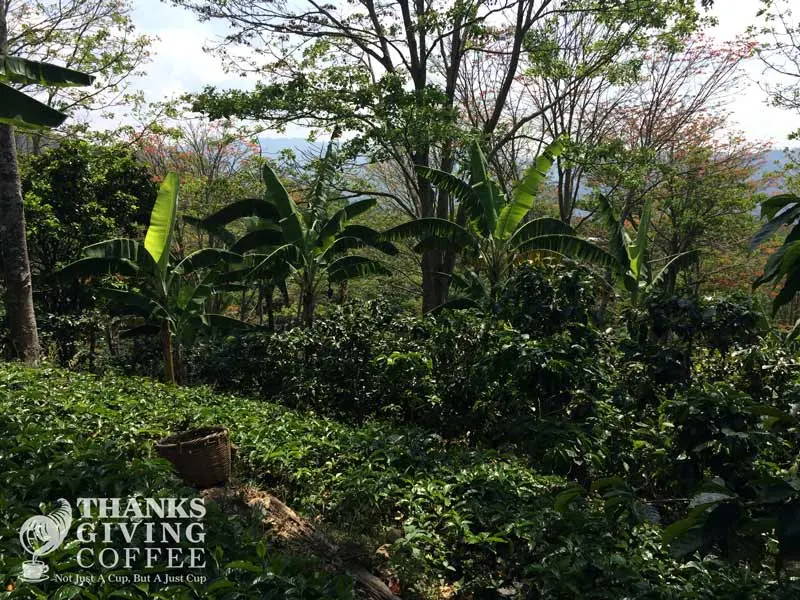 Without the leaf litter from the big hardwood trees to fertilize the soil every year coffee trees at Nicaragua Coffee Farms would need oil-based fertilizers. This is how the petrochemical companies became involved. Now with more sunlight reaching the ground, weed killers would become essential. This is how herbicide producer Monsanto became involved. Without the forest habitat for migratory songbirds, natural pest controls were lost. This is how the need for chemical pesticides became essential.
The big chemical companies found new markets and the timber companies gained new inventories of almost unlimited, inexpensive hardwoods. The coffee farmers paid for all this with higher costs, lower quality coffee, toxins entering the water supply, and a 90% loss of biodiversity on their farms.
At least half of all coffee grown in the northern neotropics has already been converted to full-sun plantations.
Preserving these precious jungle forests not only protects biodiversity, but it's also our greatest asset in mitigating the effects of climate change.
The Smithsonian's Bird Friendly® certification is the most rigorous environmental certification possible for coffee, and the only one that justifies the use of the much-abused term "shade-grown."
Based on years of scientific research, the SMBC has developed strict criteria for evaluating shade coffee farms. An independent, third-party inspector determines whether a farm meets these criteria or not. Only those farms that also meet organic certification standards are eligible to be certified Bird Friendly®.
Try One of Our Songbird Coffees
Protect biodiversity, with your morning Cup
Like us on Facebook and follow along on Instagram and Twitter for frequent updates, promotions, giveaways and more!