Roastmaster's Select Club: Kenya Nyeri Mahiga

Once a month, members of the Roastmaster's Select Coffee Club have the opportunity to sample unique micro-lot coffees from around the world. "What is a micro lot," you ask? Read up on how we source the beans and what happens when they reach our roastery.
Following the harvest cycle, Roastmaster's Club Members have exclusive access to these one-of-a-kind coffees at their peak freshness, and now it's your turn!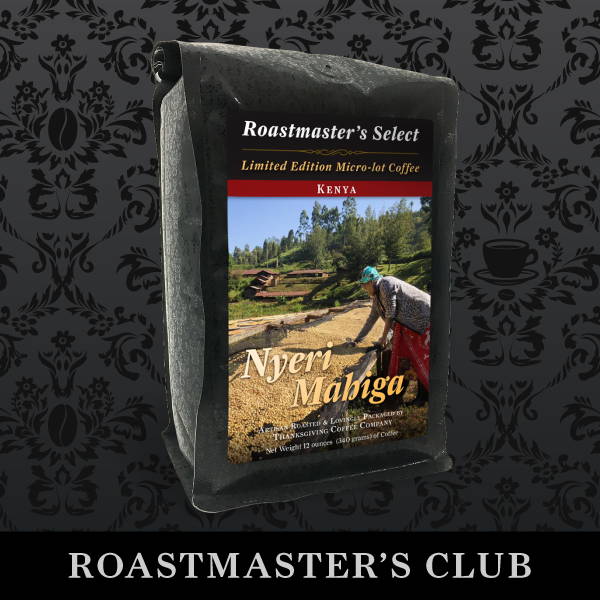 Nyeri Mahiga Coffee from Kenya
Situated between Mt. Kenya and the Aberdare Ranges, is Othaya, home to the Othaya Farmers Cooperative Society - with over 11,000 small-scale farmers, including Mahiga Wet Mill. Mahiga Wet Mill is located in Rukira Village along the Mumwe River (originating from the Aberdare Mountains), which is used to pulp the coffee cherries. Their main harvesting season runs from October to December.
Well-drained, red volcanic soils that are rich in phosphorus make for the ideal coffee-growing environment. The coffee is wet processed, fermented, washed and dried slowly over a 2- 3 week period where the moisture content is reduced to 10-12%. The coffee is then delivered to the dry mill (Othaya Coffee Mill). What should you expect? A full smooth body and positively-interacting tones of black currant, vanilla and nutty hints.
Altitude: 1,400 - 1,800 meters
Processing: Washed / Dried in
Raised Beds
Farmer: Othaya Farmers Co-op,
Society Limited
Varietal: SL 28