Thanksgiving Coffee Company Celebrates 50 Years

Thanksgiving Coffee Company turns 50 this year and we would like to celebrate our co-Founders, Joan and Paul Katzeff. They set the example for us to use our business as a force for good, with coffee as our medium. They instilled social and environmental justice as our passion and the health and well-being of our farmers as our goal.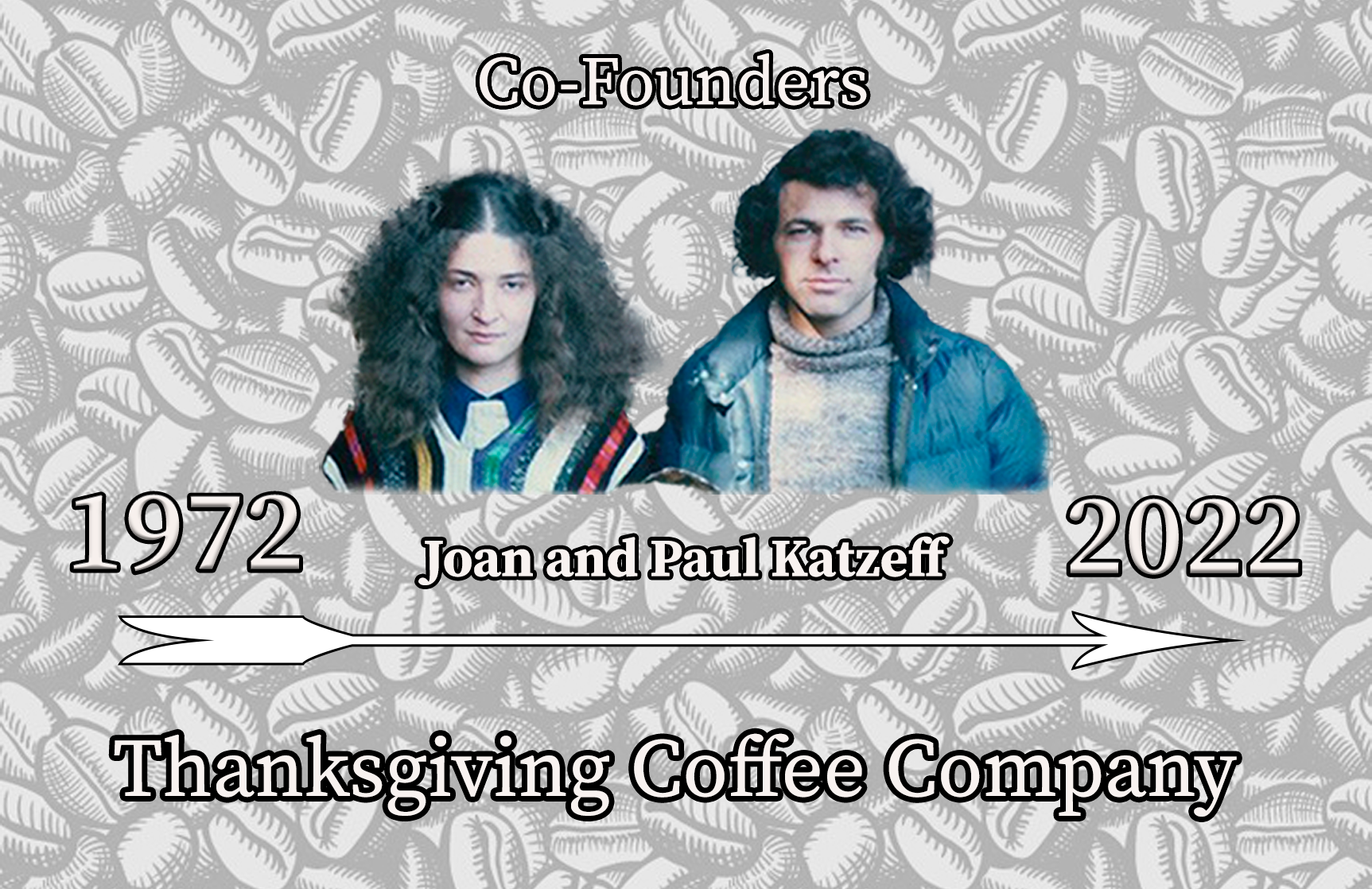 Joan and Paul have led the specialty coffee industry toward equality and justice. For five decades they have spearheaded ethical sourcing directly from small-scale farmer cooperatives, building the first independent farmer-owned cupping labs and inspiring the first Fair Trade model.
Working shoulder to shoulder with the farmers, Thanksgiving Coffee has developed one of the most valuable supply chains in coffee today. At the core, our company is built on the interconnectedness of coffee farmers, the coffee they produce, and the health and well-being of our shared environment.
"A coffee farmer will love their trees when they provide food, shelter, education, and health care for their family. When a farmer loves their trees, they will care for them in a way that produces fine quality and flavor. Great coffee derives from the welfare of the farmer and their family. It is true for all farmers who work the land, including our local farmers."
– Paul Katzeff, Co-Founder
Now Thanksgiving Coffee is being led by Joan and Paul's son, Jonah Katzeff, who has literally been part of this company his entire life. With a solid foundation to build upon, we now look to the next 50 years with a sense of excitement and purpose. Our motto, and it is true as ever... Not Just A Cup, But A Just Cup.
Thank you, Joan and Paul!
Thanksgiving Coffee Company
50th Anniversary
1972-2022